Orthodontics is about more than a great smile. It's about total health and wellness.
With solutions from Invisalign and Propel to traditional braces and retainers, we customize treatment plans that optimize not only how your mouth looks, but how it functions.
The Dentist's Role
We find the best results occur during a partnership with your dentist. Whether they notice your bite and refer you to us, or vice versa, an interdisciplinary approach to your care always creates the best results. We provide your dentist updates with routine check-ups, timely cleaning appointments during orthodontic treatment, follow up care and additional services.
Frequency of Visits
Your first visit is always a free consultation to determine your need and customize treatment plans. If we determine you a candidate for treatment, your next visit will be a 30-60 minute appointment to place your new orthodontic appliance. We will provide home care instruction and schedule ongoing visits, which range from every 4-10 weeks for a period from 6 months to up to 1-2 years.
Costs Associated
During your free consultation and exam, our dedicated insurance coordinator will determine if your insurance provides orthodontics. If not, we offer a variety of financing solutions, including discounted pay-in-full options and interest-free monthly payment plans. Fees and arrangements for payments will be fully discussed with you during your first office visit.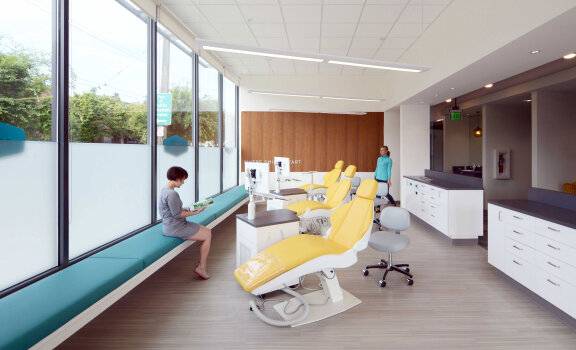 Technology Leaders
At Ballard Orthodontics, we adhere to the innovative spirit of the Emerald City by offerings the latest in technological offerings. With no messy impressions and an in-house 3D printer, come see how our all-digital treatments are leading the way.
---
We're proud to be treating patients in the heart of downtown Ballard.

Located just off Market Street, we are proud to be providing Seattle with orthodontic excellence from the heart of downtown Ballard. At Ballard Orthodontics, we give complimentary consultations to new patients. Come by today to receive yours and begin your journey to improved health and a better smile.
Come Visit Us
Best-in-class surgical solutions for the most complex cases
If you need surgical orthodontics, we partner with oral and maxillofacial surgeons to create treatment plans that ensure you receive the best care possible.
When It's Needed
Orthognathic surgery is needed to correct severe cases that include bad bites, jaw bone abnormalities, and malocclusion. It is used to treat adults with improper bites or other aesthetic concerns. The need for surgical orthodontics occurs when the jaws do not line up correctly, and a proper bite cannot be achieved with orthodontic treatment alone.
What to Expect
An oral and maxillofacial surgeon will perform a multiple hour surgery in a hospital, followed by a two-week rest period. Since orthognathic surgery is a major treatment, we recommend you schedule time away from work and school during the healing process. After surgery, your orthodontist will provide treatment options for 6 to 12 months following surgery.